HOMBRE Exclusive: ROMEO SANTOS Has The "Golden" Touch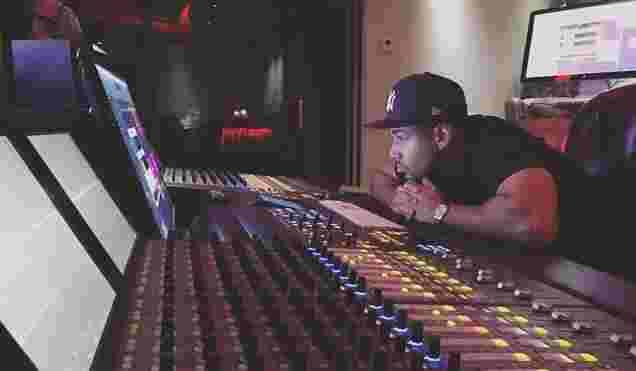 Romeo Santos' latest release "Golden" is another bonafide success in a career filled with superlatives. The album has already launched the chart-topping 'Heroe Favorito,' and 'Imitadora.' We caught up with the 'King of Bachata' as he took time off his busy schedule to bring attention to the Note for Notes non-profit organization and participate in the symbolic lighting of the Empire State Building in a 'Golden' color.
Notes For Notes, is a 501(c)3 non-profit organization that designs, equips, and staffs after-school recording studios inside Boys & Girls Clubs and after-school facilities offering youth the opportunity to explore, create, and record music for FREE. N4N Studios are packed with professional instruments – guitars, basses, drums, keyboards/synths – and equipment – DJ gear, digital music workstations – and full recording facilities. Thanks to Santos, the partnership will allow for sustaining and expanding the Notes For Notes music programs in underserved communities in New York City.
Multiplatinum, award winning, songwriter and Latin Music Superstar Romeo Santos, has the most #1 hits this decade by a Latin Artist. Among his many accolades, he has been named by ASCAP as "Songwriter of the Year" for five years in a row, and in 2016 ASCAP named him "Singer/Song writer of the Year." He has won Billboard Latin Music "Artist of the Year" for two years running, and won for two years in a row "Latin Artist of the year" at the Billboard Music Awards.
The five times platinum "Formula Vol. 1" includes five number one hits and spent 17 weeks at number one on the Top Latin Albums charts. The follow-up album "Formula, Vol. 2", is certified Diamond and spent 10 weeks number one on the Top Latin Album charts and was #1 on Billboard's "Top Latin Albums" for over 8 months. The album includes five  #1 singles; the first single "Propuesta Indecente" as well as the second single "Odio" featuring Drake both debuted at #1 and went on to spend over three months at #1.
Santos has collaborated with artists including Usher, Lil Wayne, Pitbull, Drake, Nicki Minaj, Marc Anthony and Carlos Santana. The multifaceted artist also appeared in the blockbuster "Fast and Furious 7" alongside Vin Diesel. He recently lent his voice to one of the characters in the animated film "Angry Birds." Santos made history as the first Latin Artist to perform at the New Yankee Stadium with two sold out shows with 50,000 people in attendance each night. He is the #1 Urban-Pop Artist in Social Media with over 30 million fans. Adding to his list of accomplishments he was recently named CEO of Roc Nation Latin.
HOMBRE: What made you become involved with the Notes for Notes organization?
Romeo Santos: It's a noble cause. Once they explained to me what it was I said let's do it.
H: You recently celebrated your birthday, what is the best gift you could have received?
RS: Right now, honestly, the best gift is to see my fans telling me what are their favorite songs, and how they like my music. That's the best gift.
H: We're at the top of the Empire State Building, and this tower will be lit golden in your honor, what does this moment mean to you?
RS: It's truly an honor to be here on such a beautiful day. It's amazing to receive, but to give back, to see these kids ask me about my music it means so much. It's the first time that a Latino has a moment like this in this historical building. It's a week of many special blessings. Not only a week where I have success, but also when I'm able to give back.
H: Why is that so important for you?
RS: I've been blessed and I don't take anything for granted. When you have the opportunity to do big things but also to give back its a win-win situation, and more than winning it's to give back. It's a great cause, Notes for Notes, and I'm super excited, I'm super proud.
H: What can you tell us about "Golden"?
RS: "Golden" is my third solo album. It's been about three years since I last did one, and I'm super excited to see what my fans love about the album, which are their favorite tunes. Their favorite phrases, it's special.
H: How was it working with Swizz Beatz on this album?
RS: It was honor, and very organic. Swizz is my guy and I really appreciate it. I want to thank him, he's so talented, so open minded. We're doing something musically that's a little bit out of his lane and likewise. I know hip-hop but I've never done anything like this before and we had great chemistry.
H: What are your sources of inspiration?
RS: When you listen to my music you can tell that it comes from an honest place. Things that you experience, different situations; love, social themes, it's all real and people can see that.
H: You have millions and millions of fans across all your social media platforms, what does it mean to have such a large digital footprint?
RS: I would say it's just about honesty, expressing what you feel in music and people responding. You can't be a hypocrite. And my fans have been with me since day one, in the fourteen years with the band and the five years as a solo artist. It's all about them and they are what makes me who I am today.
H: What would you say are the keys to your success?
RS: I think the same reasons of my success are what I put out there. Always be honest with your music, originality. discipline, dedication, perseverance.
THIS ARTICLE IS WRITTEN BY