HOMBRE Exclusive: The Art of Winning With JOHN CENA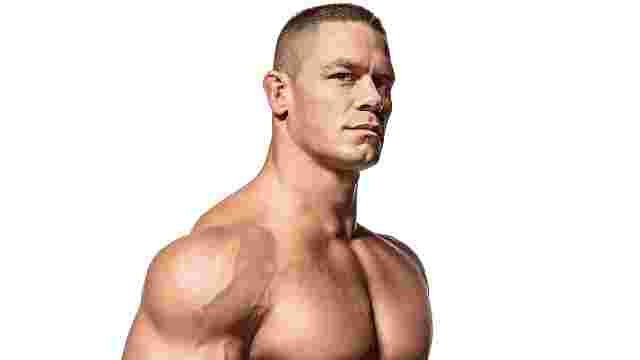 WWE Superstar John Cena continues to move beyond the wrestling ring to worldwide icon status. In addition to his numerous film and television appearances he is now deeply immersed in the Tapout apparel line (exclusively sold at JCPenney), where he serves as brand ambassador and is involved in the brand's overall development. In an exclusive interview Cena talks about the brand, his career, future plans, and offers sensible workout tips.
American professional wrestler, rapper, actor, and reality television show host John Felix Anthony Cena Jr. is primarily known through WWE. Cena started his professional wrestling career in 1999. From a generic character in 2002, Cena morphed into a rapper for the time period of 2002–2004, which earned him fame within the audience on SmackDown! Cena later transitioned to his current character, which he describes as a "goody-two shoes Superman." Cena is described as WWE's franchise player since 2005, and WWE credited him as being the "face of WWE" since 2004. It has been said that "no one has been able to keep that schedule, no one has matched his box-office appeal, no one has sold more merchandise, no one has had the longevity, the box-office attraction as the main, top level star than John Cena."
Throughout his WWE career, Cena has won 25 championships, with 16 reigns as a world champion, an accomplishment only previously achieved by WWE Hall of Famer Ric Flair. He is also a five-time United States Champion, and four-time world tag team champion. He has headlined WWE's flagship event, WrestleMania, on five different occasions (WrestleManias 22, 23, 27, 28, and 29) over the course of his career, as well as many others pay-per-view events. As of 2016, John Cena is WWE's highest-paid wrestler.
Outside of wrestling, Cena has released the rap album 'You Can't See Me,' which debuted at No. 15 on the US Billboard 200 chart, and starred in the feature films 'The Marine' (2006), '12 Rounds' (2009), 'Legendary' (2010), 'The Reunion' (2011), 'Trainwreck' (2015), and 'Sisters' (2015). Cena has also made appearances on television shows including 'Manhunt,' 'Deal or No Deal,' 'MADtv,' 'Saturday Night Live,'  'Parks and Recreation,'  and hosted 'American Grit' on Fox and this season's 'Kid's Choice Awards' on Nickelodeon. He is involved in numerous philanthropic causes; most notably with the Make-A-Wish Foundation where he has granted the most wishes in Make-A-Wish history.
HOMBRE: How did your involvement with Tapout come about?
John Cena: A bunch of folks who have the resources to do so said we'd like to re-brand Tapout and I said I'd like to be involved. I knew the name was familiar. I've had a strong presence in apparel and I wanted to take that apparel and make athletic wear because all my is stuff is athletic aspirational driven, but all my apparel is the cotton t-shirt business. So they had an idea, I had a really good concept. I helped create the template of who Tapout is for and we pitched it to JCPenney and they loved the idea. We had a good idea, backed it up with great products, and we found a great partner in JCPenney to put it on the shelves for us. It's been a great success.
H: What is it about this brand that sets it apart from other sportswear brands?
JC: Straight up the value. We have a wonderful product, because I won't wear anything that doesn't perform. There are a lot of folks just getting started in fitness, or their goal is to be more active, but they don't know necessarily where to start. My comparison is you throw a tailored suit and it just fits right, and you feel like you're going to do business in. When you throw in active wear that is built to perform, you are ready to perform. It's essentially your uniform and it gets you in the right state of mind. It's weird to say, but it's true. We give you a great athletic brand and JCPenney has been wonderful about keeping the price point attainable. It is aspirational, functional stuff that is at a great price point, so you can get a wonderful product at a great price; that's a pretty good business model.
H: Is there anything people would find surprising about your training?
JC: That it's boring (laughs). I started my first workout when I was 12 years old. I'm going to be 40 in April and I haven't stopped since. So I have been in the workout/fitness industry almost 30 years. It's been a long time. I've been certified so I  know what I'm talking about, but with that much human experience I also know the human body, especially when it comes to stuff like this, especially when it comes to performance wear I endorse.
H: How have your professional goals evolved over time?
JC: Well now I'm like the old guy who wants to show the young guys that I can still go. That's what keeps me driven. Right now the guys are in their twenties, there's not too many guys in their 30s and 40s so I just have to break that mold. There are days when I find myself questioning what I'm doing and that's what keeps me motivated, not to stay young because that's impossible, but to show the younger crowd that I can still go.
H: What's next for you?
JC: I love WWE, I will always be there but sometimes other things call me away from the organization. There are many projects in the works that will hopefully be starting soon. And there are several projects like Tapout that will continue to evolve. I want to be involved in films. I believe in everything that I back and I have fun and I think it shows. I don't ever want to be a part of something where I hate going to work.
H: What's the best advice you can give to people starting out in fitness?
JC: Find something you like. Don't set unrealistic goals. If you're looking for a complete transformation give yourself the time it takes for a complete transformation. Instead of setting a goal like I'd like to lose 20 pounds – we all know how that's going to happen, by making better choices with nutrition – the goal should be I'm going to make better choices and move around to lose X amount of weight.
H: What are the new gear additions to the brand?
JC: We're getting more into athleisure. When we started it was pretty much gear built for athletic performance. Now I just filmed 'Carpool Karaoke' with Shaq (Shaqille O'Neal) so I had on a nice pair of jeans, shoes, with a Tapout shirt that worked and looked well. We have the female line coming out, we have the youth line coming out. As athleisure becomes more popular and I see leggings everywhere it's just accepted as everyday apparel. It's living in here (the gym) and living outside.
H: As Brand Ambassador what are some of the improvements you'd like to see in the brand?
JC: As long as the ethos doesn't change, as long as it remains a brand that motivates people and backs it with a good wearable product, that does what is says its going to do; I'm cool.
H: Finally, what are some quick fitness tips you can give our audience for 2017?
JC: Keep it simple, make good choices, and move around every day. Those are easy tips for '17 and beyond.
THIS ARTICLE IS WRITTEN BY