HOMBRE Gift Guide: Tech & Gadgets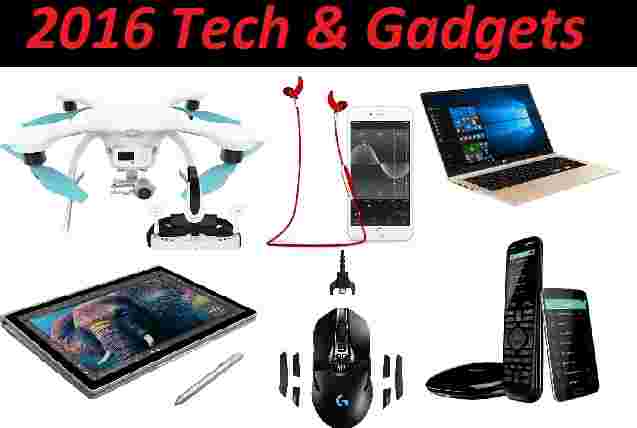 As the Christmas holiday nears and finding the right gift takes the utmost priority, gadgets and technology always are tops on the list for most members of your exclusive circle. Here we bring you some of our favorite selections – from drones, to mobiles, to home entertaining, computing and gaming – you'll find something for everyone.
COMPUTING
LG gram 15
If the weigh of a powerful laptop matters to you – and it should –  then the LG gram is your best choice. It's perfect for the executive on the go or the international traveler. Surprisingly thin and weighing in at 2.2 pounds this 15″ laptop is ready to help you take on the world in style, with its sturdy composition and champagne gold finish.
The LG gram features a sixth-generation Intel Core processor, Windows 10, full HD picture quality, and many connective options. It delivers when it comes to productivity.
Unlike other light laptops it has a USB 3.0 Type A port, full-size HDMI, and a USB Type-C port that supports charging and USB 3.1 5Gbps speeds. There's also a Kensington lock slot, a USB Type A 2.0 port, a USB Type A 3.0 port, microSD card slot, and headset jack. Basically you're covered.
The 1920 x 1080 display and long lasting battery (5 hours) make it work well for gaming and movie watching on long flights. It measures 14.08 x 8.99 x 0.66 inches, equipped with a 2.3GHz Intel Core i5-6200 Skylake processor, 8GB of DDR3L/1600 RAM, a 256 GB SSD, and an Intel Dual Band Wireless-AC7265 combo 802.11ac/Bluetooth 4.0 card.
It's available in two models:
LG gram 15: 15-inch model in "New Gold" with Intel Core i5, 8GB of memory and 256GB of storage (Model 15Z960-A(AA75U1)
Weight: 2.2 pounds
Suggested price: $1,099
LG gram 15: 15-inch model in "New Gold" with Intel Core i7, 8GB of memory and 512GB of storage (Model 15Z960-A(AA75U1)
Weight: 2.2 pounds
MSRP $1,099 – $1,199.
Available at www.lg.com
Microsoft Surface Book – 128GB / Intel Core i5
Micrsoft  continues revolutionizing computing with their Surface series. This Surface Book comes with a detachable 13.5" PixelSense Display is optimized for Pen and touch. With the full power of a high performance laptop and the versatility of a tablet, Surface Book gives you everything you need to work with professional-grade software for engineering, design, and everything in-between. The Intel Core processors deliver the power and there's an optional NVIDIA GeForce dGPU for unmatched graphics performance.
As expected the Surface Book has a detachable 13.5" PixelSense Display, with Pen and touch. The 6 million pixels offers unbeatable resolution and color. Just detach the display to transform it into a thin and light Intel Core i5/i7 PC, that runs professional grade software. Surface Pen has 1024 levels of pressure sensitivity and an eraser on the other end, so handwritten notes on your screen are just like pen on paper.
Once detached, flip the screen 180 degrees and reattach it to the Integrated Keyboard to present, watch movies, or design with Surface Pen. And you're only a click away from the Windows Ink workspace, with quick access to sticky notes, a blank page for sketching, or a quick screenshot that you can mark-up and share. And coming from Microsoft, with up to 12 hours of battery life, you'll be set to play your favorite Xbox and PC games.
MSRP: $1,299.
Available at www.microsoft.com
Logitech Keys-To-Go Ultra-Portable Keyboard (for Android and Windows mobile devices)
A slender stand-alone keyboard with a thin and light design that can fit anywhere and go everywhere. It has a durable FabricSkin to handle any spills or drops. Use the stand to hold your smartphone in an upright position for easy typing. The rechargeable battery can last up to three months.
MSRP: $69.99
Available at: www.logitech.com
DRONES
Ghostdrone 2.0
EHang is leading the way in making drones more mainstream and providing consumer facing applications designed to encourage drone enthusiasm. Their first consumer drone, GHOSTDRONE 2.0 offers brilliant innovation, technology and engineering, and provides a robust yet easy-to-use-no-transmitter UAV.
Geared to non-techies, the drone is simply piloted by a smartphone with EHang's newly upgraded app which uses the company's signature Tilt Control. With VR goggles the user gets an "in flight" view while looking directly through the camera while piloting; changing the view is as easy as tilting your head. The proprietary gimbal-stabilized 4K camera makes it among the best drone cameras to shoot professional-quality aerial photography
Best of all they have one-year no-questions-asked "you break it, we replace it" policy that covers up to three drones.
MSRP $399
Available online at eHang.com, amazon.com as well as Best Buy
Hobbico's KODO HD
If you're looking for a simpler more affordable option choose the Hobbico's KODO HD drone.
A practical way to get started and combine the virtual world and the great outdoors. Easy to use, this drone allows for inverted flights and comes with a manually adjustable digital camera that shoots 1080p pictures/videos. Rugged and ready to fly.
MSRP: $59.99
Available at www.dromida.com
___________________________________________________________________
GAMING

FUSION Controller for Xbox One
Looking for a gaming competitive edge? This FUSION Controller should help with its 6 interchangeable analog sticks of different heights & sizes, 2 Pro Gaming Buttons, quick-trigger locks, and other features you'd expect on an advanced controller, all at a competitive price.
MSRP $49.99
Available at www.powera.com
FUSION Gaming Headset
This stereo gaming headset has 50mm drivers, a detachable boom mic, on-ear controls & mic monitoring, with an adjustable memory foam headband for long-lasting comfort. Perfect complement to the Fusion controller above.
MSRP $49.99
Available at www.powera.com


Turtle Beach continues with their proven track record of designing innovations gamers love. The ELITE PRO Tournament Gaming Headset and the Tactical Audio Controller are designed from the ground-up for gaming enthusiasts. The "Elite" series product line offers the ultimate professional grade gaming features, extended warranty and support.
The TURTLE BEACH ELITE PRO is the future of gaming headsets with an adjustable fit system that delivers a new level of comfort. The Pro Gaming Mic with TruSpeak Technology ensures your voice is heard loud and clear with this professional quality mic, and the 50mm Nanoclear Speakers let you immerse yourself in the game and hear your teammates clearly.
MSRP $199.95.
Available at www.turtlebeach.com
The ELITE PRO TACTICAL AUDIO CONTROLLER (T.A.C.) is the most powerful audio controller ever designed for eSports and combines cutting-edge audio technology like DTS Headphone:X 7.1 Surround Sound and Superhuman Hearing with powerful microphone tuning tools.
You can personalize your audio preferences with a variety of EQ audio presets and sound modes and quickly and accurately adjust your game and chat volume mix without interrupting play. For gamers on PC and Mac, the Elite Pro T.A.C. also serves as a full, external USB sound card offering DTS Headphone:X 7.1 Surround Sound.
MSRP $199.95.
Available at www.turtlebeach.com
TURTLE BEACH STEALTH 420X+
This is the latest officially licensed gaming headset for Xbox One with the freedom of 100% fully wireless game and chat audio. You can experience crystal clear, interference-free game and chat audio with 100% wireless connectivity to your Xbox One. Easily find the perfect balance between game audio and chat audio. 15-Hour Rechargeable Battery.
MSRP $149.95
Available at www.turtlebeach.com
Xbox One S "Gears of War 4" Bundle
This is the smallest and most compact Xbox yet. The new Xbox One S enables you to watch Blu-ray movies and stream video in  4K Ultra HD and offers High Dynamic Range support for video and gaming. You can experience richer, more luminous colors. The bundle includes a 1TB Xbox One S console and matching Xbox Wireless Controller, a 14-day Xbox Live Gold membership trial and a full-game download of "Gears of War 4" for Xbox One and Windows 10.
MSRP $349.
Available at www.xbox.com
Logitech G810 Keyboard
All gaming keyboards were not created equal. The Logitech G810 offers industry-leading technology and quality of construction in a clean, sophisticated design.
You can use Logitech Gaming Software (LGS) to select and personalize each individual key light from a spectrum of over 16.8 million colors, and synchronize lighting effects with other Logitech G gaming gear. Mark keys by color to keep track of spells and other commands, or change colors to match your setup. Central backlighting makes it easier to find the right keys in game and in the dark. LGS comes pre-loaded with custom lighting profiles for over 300 games, so all the work is done for you out of the box.
The Logitech G810 Orion Spectrum features dedicated media controls that can be used to play, pause and mute music and videos instantly, so you can control your background track without switching out of your game. Use the roller to adjust the volume, or skip to the next song with the touch of a button.
MSRP $159      
Available at gaming.logitech.com
The Logitech G900 Chaos Spectrum Professional Grade Wired/Wireless Gaming MouseMouse
If you get the keyboard you may as well get the most responsive wireless gaming mouse around.
With a one-millisecond report rate, and highly optimized 2.4GHz wireless connection, the Logitech G900 Chaos Spectrum is a solid performer. It features professional grade wireless technology, Logitech's most accurate optical gaming sensor, a flexible ambidextrous design, customizable lighting, a mechanical pivot button design and lightweight construction, for maximum performance and comfort over long gameplay sessions.
You can play continuously for 32 hours – an entire competition weekend – on a single charge (24 hours with default lighting). When you're running low on power, the Logitech Gaming Software (LGS) Battery Assistant will notify you.
Going beyond ambidextrous, the Logitech G900 Chaos Spectrum can be transformed into a truly left- or right-handed mouse, using the included magnetic button covers. Using LGS, lighting color and brightness can be programmed to match your style, system and environment from a palette of up to 16.8 million colors.
MSRP $149.99
Available at gaming.logitech.com
HOME ENTERTAINMENT

Logitech Harmony Elite
Here is the most powerful and intuitive Harmony remote, controlling up to 15 devices for seamless control of  entertainment—and home. The all-new design has a color touchscreen features swipe-and-tap gestures to change channels, fast-forward or rewind, or adjust volume. The motion sensing, backlit buttons and improved button layout make it easy to find the right button, even in the dark. There's a set of dedicated connected home buttons, a replaceable, rechargeable battery with 20% greater capacity than it's predecessor, and you can control popular home control devices like lights, locks, and thermostats, according to schedules or with sensors.
You can group and control devices through Activities. Combine multiple devices and control them as one. You can control devices inside closed cabinets or behind walls. Adjust devices even when you're away from home. Works with 270,000+ devices including Apple TV, Roku, and TiVo media players, popular gaming consoles, CD, DVD, and Blu-ray disc players, plus connected lights, locks, thermostats, sensors and much more.
MSRP $299.00
Available at www.logitech.com
AC5300 Ultra Wi-Fi Router (DIR-895L/R)
With so many tech gifts on the shelves, today's connected homes require an extremely fast router to support laptops, tablets, phones, Smart TV s, game consoles, and beyond – all connected at the same time. Featuring Tri-Band Technology and Multi-User MIMO (MU-MIMO) support, D-Link's AC5300 creates a maximum-performance wireless network designed to handle high-bandwidth activities like HD streaming even in the farthest corners of the house.
MSRP $379.99
Available at www.dlink.com
Full HD 180-Degree Wi-Fi Camera
Designed to redefine viewing angles with a 180-degree wide-eye angle lens, this Wi-Fi Camera utilizes unique video de-warping technology that maximizes video quality for crisp wall-to-wall HD 1080p video with less distortion. Additional features include a built-in microphone, motion and sound detection, a microSD slot for local recording, and remote viewing via the free mydlink Lite app – so users always know what is going on at home from anywhere.
MSRP $159.99
Available at www.dlink.com
_________________________________________________________________________
AUDIO
AKG N60 NC
Block out all the noise and immerse yourself in the pure sounds of the music. The AKG N60 NC delivers crisp, powerful audio in an ultra-compact design. It has a 30 hour battery life allows listeners to never miss a beat, even during the longest flights and layovers. These headphones produce a clear acoustic sound with a warm base response.
In addition, this ultra premium audio offering comes complete with first-class features like an exclusive 3D-Axis folding mechanism, a fully-accessorized travel package, a one button universal remote/mic cable and a USB charging cable.
MSRP $249.00
Available at www.akg.com
Jaybird Freedom
For elegant and micro-sized, advanced, secure-fitting wireless Bluetooth buds choose Jaybird's Freedom. They fit perfectly and deliver a hands-free experience that never misses the beat. Functional and refined, packing premium features into a bite-sized package.
The all-metal housing has the added benefit of removing distortion resulting in an crisp clear sound. MSRP $199.
Available at www.jaybirdsport.com

UE BOOM 2
UE offers speakers in different sizes, with the commonality that they deliver the best in sound per square footage. For a smaller space or for the open road the BOOM 2 will suffice. Waterproof and dropproof it's designed to get wet, muddy and beat up. This speaker blasts perfect sound in every direction –  360-degree sound in every direction, wherever you go.
UE BOOM 2 is 25 percent louder with a longer wireless range of 100-feet. Plus, it has a 15-hour battery life. It's the size of a water bottle, so stick it in your bike's water bottle holder or clip it to your bag, bring it to the beach or the ski slopes, turn up life and add dimension to any moment.
MSRP $199.
Available at www.ue.com
UE MEGABOOM
For more power in your sound the UE MEGABOOM by Ultimate Ears is a portable wireless speaker on steroids. Also water and drop proof with simple design and lightweight. These speakers are designed to incite epic parties, you can wirelessly Double Up with a second UE MEGABOOM or UE BOOM and take your party to the next level.
With a 100-foot Bluetooth range, a 20-hour battery life, and ultra-fast micro USB charging, UE MEGABOOM is designed to make your musical adventures both awesome and easy.
MSRP $299.
Available at www.ue.com
HTC 10
The HTC 10 delivers everything that you would want from a flagship device. This newest addition combines a world-class camera with gold-standard audio, bold new metal unibody design and unparalleled performance.
Inspired by light and sculpted to perfection, the HTC 10 employs a new approach to design where bold contours are carved out of solid metal.
Mercilessly engineered to handle everyday knocks, bumps and scratches, the HTC 10 was subjected to over 168 hours of extreme temperature tests, ranging from a freezing -20'C to a scorching 60'C; and over 10,000 drop, bend, scratch and corrosion tests.
The HTC 10 has a superior camera.With the world's first optically stabilized, larger aperture f/1.8 lenses on both the front and rear cameras, new larger sensors, 12 million of new generation UltraPixels (1.55um per pixel), faster laser autofocus powering the main camera and a wide angle lens and screen flash on the front UltraSelfieTM camera, this smartphone delivers brilliantly sharp, low light and high-resolution photos whether behind or in front of the lens.
With the camera designed to launch in as little as 0.6 seconds, and a 2nd generation laser autofocus that gives you focused shots faster, it's quick enough to even work in burst mode. All the settings are also conveniently located at your fingertips with Pro Mode still offering advanced options for more experienced photographers, including RAW format functionality.
But it's not just the imaging that puts this smartphone at the top of its game – the HTC 10 combines vivid 4K video with the world's first stereo, 24-bit, Hi-Res audio recording – capturing 256 times more detail than standard recordings across twice the frequency range and enabling you to bring to life your recorded content as if you were actually there in person.
The HTC 10 will comes in two variants with different Qualcomm Snapdragon processors to cater for different market needs. In the U.S., HTC 10 is available across multiple wireless providers including Verizon Wireless, Sprint and T-Mobile, as well as HTC an Unlocked edition, which will be compatible with AT&T and T-Mobile networks. It also comes with UH OH Protection, which includes one replacement at no charge within the first 12 months of ownership for a cracked screen or water damage.
MSRP $699.
Available at www.HTC.com
Samsung Galaxy s7
The Samsung Galaxy S7 and Galaxy S7 edge are designed for the modern active lifestyle. Here is a unique mobile experience that features an enhanced design, higher-quality camera, refined software functionality, and unparalleled connectivity to a galaxy of services, products and experiences.
Let's go through the improved features starting with the advanced smartphone camera.
Whatever the lighting situation, you can be sure to end up with crisp, sharp, colorful photos that often improve on what the eye see. Why? Because the S7 main, rear camera sensor captures 95 percent more light through a wider aperture and larger pixels to deliver better photos. With the first ever Dual Pixel sensor in a smartphone camera, the Galaxy S7 and Galaxy S7 edge autofocus on an image quicker and more accurately.

We said it before, and we'll say it again. How can you go through life without a water resistant phone?
With the S7 and S7 edge you need not worry about the rain, dropping the phone in a puddle, or being afraid to carry your phone to the pool, ocean, or on that summer boat ride.
From launching apps to playing games to streaming video, everything happens faster and smoother on the Samsung S7 and S7 edge, thanks to a new, improved, more powerful and more efficient CPU and GPU. The phones have boosted battery capacity of 3,000 mAh for the Galaxy S7 and 3,600 mAh for the Galaxy S7 edge. Users will also enjoy fast wireless and wired charging. Additionally, the hybrid SIM card tray allows users to insert a microSD card for up to 200GB of additional storage.
MSRP $699.
Available at www.samsung.com
THIS ARTICLE IS WRITTEN BY