NEW YEAR'S EVE Will Touch You In All The Right Places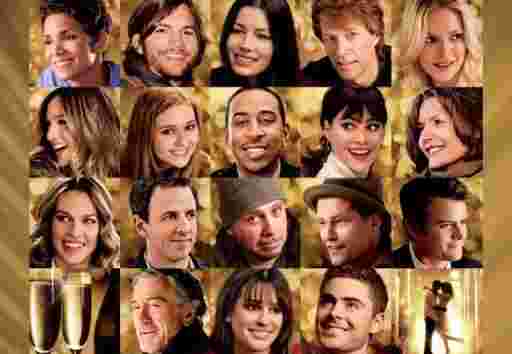 New Year 2012 is almost here! And director Garry Marshall, gives audiences a chance to take a breath of pre-New
Year's air, reminding us just how meaningful the holiday can be.  Instead of simple generic family fare, "New
Year's Eve"  is a dramatic comedy filled with surprises; a film where couples
and singles, young and old, are trying for a new start, a second chance, a moment
of forgiveness, and more importantly, faith and love.
As Marshall ("Valentine's
Day," "Pretty Woman") says about the
holiday, "It's the perfect opportunity to take stock of things, to think about
the mistakes of the past year and about how maybe you can do better."
"New Year's Eve" is filled with stars including Halle
Berry, Jessica Biel, Robert De Niro,
Sofia Vergara, Josh Duhamel, Zac Efron, Katherine Heigl, Abigail Breslin, Chris "Ludacris" Bridges, Ashton Kutcher, Seth Meyers, Lea
Michele, Sarah Jessica Parker, Michelle Pfeiffer and Hilary Swank just to name
a few. But don't blink or you'll miss Cary Elwes, Carla Gugino, Joey McIntyre,
Ayssa Milano, and many more.
The film wouldn't be complete without Hector Elizondo. The
legendary actor plays the heroic Kominsky, who comes in to save the day.
Elizondo has worked with Garry Marshall in all of his films including the
recent "Valentine's Day," and the now classic "Pretty Woman." As a matter of
fact Marshall considers Elizondo his 'good luck charm' and will not do a film
without him. The director even flew in to New York to present his friend with
the "Legends: Hispanic Hall of Fame" Award, produced by our publisher Francisco
Romeo several years ago.
In "New Year's Eve" random individual stories
briefly touch each other but mainly focus on their own message. Since all
storylines unravel on December 31st in New York City the movie is incredibly
dynamic and keeps you excited throughout. Pleasantly, all the character's life
stories have a whiff of fairy tale and everyone can find something to see
through this fairy tale haze.
Screenwriter Katherine Fugate says of the intertwined
stories, "We talked about the kinds of experiences and circumstances that would
best convey the themes of the movie across a range of different relationships.
We wanted a story of first love and one of forgiveness, as well as stories
about taking a risk, letting things go, revisiting an old flame, making amends,
having a baby, starting fresh, with love being the mitigating force through all
of them."
You will be a little nervous while Claire (Hilary Swank)
is dealing with a potential New Year's disaster. She, however, has something
more monumental to deal with when the party is over. Laura's (Katherine Heigl) up
and down relationship with her boyfriend (Jon Bon Jovi) will give you reason to
laugh and hope that New Year means a new start. Randy (Ashton Kutcher) and
Elise (Lea Michele) will remind you that there is no better time to fall in
love than getting stuck in an elevator – on December 31st. The most
"revolutionary" character, Ingrid (Michelle Pfeiffer) represents the person who
is down but still strong enough to reach for her dreams – especially with the
help of young bike messenger Paul (Zac Efron). They set the example of how
imagination can go beyond reality and no matter how much time you have, your
true fervor is the only thing that matters when you want to make your dreams
real.
Of course the most hilarious moments are related to the very important New Year's
Eve media tradition – the announcement of the New Year baby. Can't imagine the
competition of child birthing?
Stay
tuned to Jessica Biel (Tess) and Seth Meyers (Griffin) and you'll understand
what competition is all about!
Undoubtedly the most surprising scenes belong to Sarah
Jessica Parker. You will recognize the mysterious girl with the hope for
romance from a glance at her shoes in the final scene.
And what's a New Year without a great party and
unforgettable music? Jon Bon Jovi plays 'Jensen,' a singer and a man who wants
a second chance. He performs Otis Redding's "I can't turn you loose" on the
Times Square stage and John Hiatt's "Have a little Faith in me" in the
masquerade ball.
Sofia Vergara – currently featured in HOMBRE – is hilarious
in the film as 'Ava,' the sexy Sous Chef, infatuated with 'Jensen.' The sexy
Colombiana has won two consecutive Emmy Award nominations, a 2011 Golden Globe
Award nomination and Screen Actors Guild Award nomination for her role in the #1
comedy series in America, ABC's "Modern Family." She is the face of Diet Pepsi
and Skinny Pepsi and the newest face of Cover Girl. Additionally she launched a
women's clothing and accessories line called Sofia and was named one of the
most talented and powerful women in Hispanic entertainment by The Hollywood
Reporter and Billboard.


Garry Marshall is an icon in the world of film and
television helping launch the careers of countless stars. In addition to his many
written, produced and directed films Marshall created and executive produced some of the most celebrated sitcoms in
American television history including "Happy Days," "The Old Couple," "Mork and
Mindy," and "Laverne and Shirley." He says of the film, "I hear the music under
every scene, the beats and the notes in the dialogue. In "New Year's Eve" there
are some very touching moments and a lot of comedy, a lot of different stories
to tell, and each one has its own rhythm. I like to move things around, to
balance the intensity of one scene against the lightness of another."
Touching upon some behind the scenes secrets, the movie began
filming on December 31, 2010 on Times Square, which was one of the most exciting
things for filmmakers.  The Times Square
stage was rebuilt at 45th street and Broadway and the scenes featuring the ball
were shot from the top of the roof of a building adjacent to One Times Square.
Apart from that, all other New York locations in the film were real – the
Rockefeller Center's Radio City Music Hall, the New York Life Building and the Chelsea
Market.
According to Marshall, there were two big problems during
the filming: to coordinate the schedules of the cast and the cold temperature.
Since not only locations were real but the winter season as well, it was
uncomfortable to work in such conditions. However Mr. Marshall says laughing,
"The weather did get in the way of the kissing," but he says he has never heard
any complaints.
"New Year's Eve" combines everything that makes life full
of thrilling emotions and vibrant colors: tumultuous decisions, sips of sadness, hopes for the best, faith in love, miracles, and the vision and energy
to look ahead.
The countdown has
started!
Don't miss New Year's Eve ...And be sure to stay for the end credits!
THIS ARTICLE IS WRITTEN BY