New York's WESTHOUSE Hotel Toasts The Silver Screen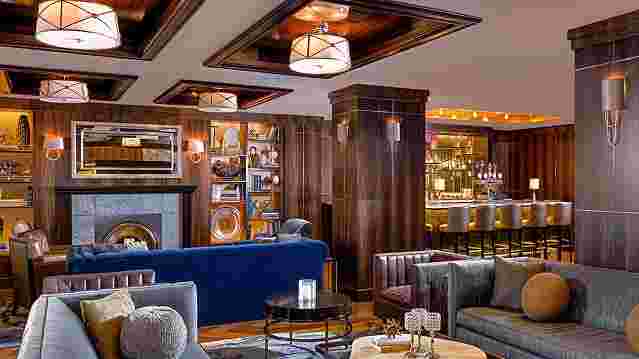 Within the past decade, hotel bars have reinvented themselves from drab, nondescript places to grab drinks into chic and exclusive destinations where hotel guests, visitors, and locals converge. From high-concept cocktail lounges to rooftops with stunning views and even more stunning crowds, hotel bars have evolved into some of the city's most sought-after spots. WestHouse Hotel New York, the luxury boutique hotel innovating Manhattan's hospitality landscape with its distinct "house away from home" concept and Art Deco inspired design, will host one tasting event each month offering a flight of spirits for $35.00.
The Tasting Series will expand on the Den's successful Silver Screen event, a weekly movie showcase that offers specialty cocktails paired with each film. Their calendar of events has been carefully curated to highlight different spirits based on the seasons and will be shown alongside specific themes or Hollywood's biggest stars and the libations they love.
The Den, the hotel's modern interpretation of the classic speakeasy, is a perfect romantic date night option or a night with friends. Starting this month, each tasting will be hosted from 6:30pm – 8pm and offer 4-5 premium flights of the month's highlighted spirit. While the lounge is open to the public, the tasting series is limited to eight guests max and reservations are required. We've highlighted a selection of the Tasting Series dates and line up below:
November 30th
In celebration of a man who loves Bordeaux so much that he reportedly has a $30,000 monthly spending habit on it, The Den will show Johnny Depp's most beloved movies during the month alongside an assortment of Pinots, Cabs, And Burgundies.
December 14th
"There Comes a Time in Every Woman's Life When the Only Thing That Helps is a Glass of Champagne" – Bette Davis
Regarded as one of the greatest actresses in history, Bette Davis of the famous eyes also had an equally famous love of champagne. With the season of celebration and the holidays, an old black and white movie and a glass (or 5) of bubbly make for the perfect December pairing.
January 18th
Though she's not technically a part of the Hollywood scene, Queen Elizabeth and her love of gin is something to celebrate. It's been reported that The Queen's favorite beverage is a gin and tonic and according to her cousin, she has her daily lunch with a side of dry gin martini. The Den will show a British themed movie in the Queen's honor alongside the juniper-flavored spirit.
February 22nd
"I wish to live to 150 years old, but the day I day. I wish it to be with a cigarette in one hand and a glass of whiskey in the other." – Ava Gardner
MGM's classic film darling, the black-haired beauty was an iconic star of the silver screen. Remembered for her roles as a leading lady both on and off-screen (she was the wife of Mickey Rooney, Artie Shaw, and the legendary Frank Sinatra), Ava Gardner is the definition of a classic movie star. A perfect way to warm up from the February frost, we can't wait to toast a whiskey or bourbon in Ava's honor and indulge in classic film.
Reservations for the November tasting may be made at the Eventbrite platform (here). Future tastings may be found on the Eventbrite platform each month.
Since the hotel opened its' doors, WestHouse has been included on the travel industry's most coveted lists including Condé Nast Traveler's Top Hotels in New York City and Travel + Leisure's Best Hotels in New York City. The hotel just was named among Harper's Bazaar 2017 best hotels of the world.
WestHouse is located at 201 West 55th Street, New York NY 10019. For more information or reservations call 1.800.WEST (9378) or visit westhousehotelnewyork.com. Follow WestHouse on Facebook, Instagram and Twitter @WestHouseNY #Inresidence
THIS ARTICLE IS WRITTEN BY