Plan a Fishing Trip To JACKSON HOLE For Father's Day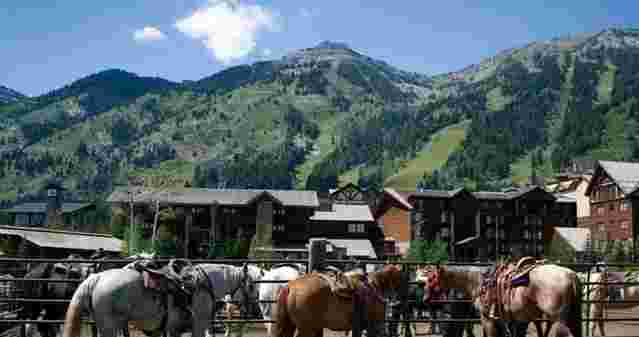 It's not too early to begin planning for Father's Day, and this holiday take dad back to nature. Jackson Hole, Wyoming offers impressive mountains and some of the best trout fishing in the nation. This is an angler's paradise and you can anchor the journey at Teton Mountain Lodge & Spa or Hotel Terra Jackson Hole in Teton Village. Teton Mountain Lodge & Spa is perfect for travelers looking for a classic mountain lodge, while Hotel Terra Jackson Hole is an eco-friendly, elegant haven.
Nestled near two of America's most celebrated national parks — Grand Teton National Park and Yellowstone National Park – the properties serve as an ideal entry point to these renowned mountain escapes with a number of rivers to choose from – Snake, Henry's Fork, Gros Ventre, Green, Madison and more. The lakes and streams below the Teton Range feature Rainbow, Brown, Lake trout and one of the few remaining populations of wild Cutthroat trout. Jackson Hole presents a combination of breathtaking scenery, plentiful fishing, and accessibility for all skill levels.
Travelers can fly non-stop to Jackson Hole on a daily basis from at least 12 airports around the country, making this one of the most accessible mountain resort towns in the country. Dads can take advantage of each property's national park overnight package, allowing them seven days of access to the majestic parks and their trout-packed rivers.
Hotel Terra Jackson Hole | Passport to the Parks
Three nights in any room or suite
Seven-Day Park Pass to Grand Teton and Yellowstone National Parks
With an ideal slopeside location in the heart of Teton Village and just one mile away from Grand Teton National Park, Hotel Terra Jackson Hole was voted Jackson's "Best Hotel" three years in a row. The property offers boutique luxury accommodations with 132 rooms and suites, 4,500 square feet of flexible meeting and event space, rooftop spa with an infinity pool, hot tub and breathtaking views, as well as gourmet dining from celebrated local chefs.
For more information visit www.hotelterrajacksonhole.com
Teton Mountain Lodge & Spa | National Parks Explorer
Three nights in any room or suite
$50 daily breakfast credit at Spur Restaurant & Bar
Seven-Day Park Pass to Grand Teton and Yellowstone National Parks
Teton Mountain Lodge & Spa, a Noble House hotel, is a luxurious, slopeside Alpine mountain haven and quintessential ski lodge that epitomizes the classic Western spirit of Jackson Hole, Wyoming.  A year-round basecamp for Western adventure, the property is located at the base of Jackson Hole Mountain Resor.
Teton Mountain Lodge & Spa received Gold in the 2017 "Best of Jackson Hole Awards" for Best Full Service Spa, SpaTerre, Best Chef, Kevin Humphries, and Best Place to Après, Spur.
For more information visit www.tetonlodge.com
THIS ARTICLE IS WRITTEN BY