Spicy Summer Recipe From Shay Mitchell & STELLA ARTOIS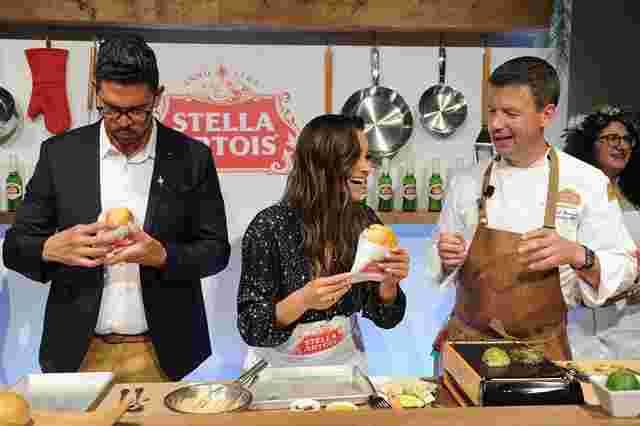 As we prepare to immerse ourselves into the hot days of summer, filled with barbecues and pool parties, Stella Artois has you covered. The Belgian Cidre brand teamed up with actress Shay Mitchell to launch the "Host One to Remember" campaign. This is a celebration that captures the feeling of a European Braderie – a popular outdoor gathering – with music, drinks, and tasty dishes. Read on for one of Mitchell's favorite recipes.
Mitchell, like many of us is a fan of quick and easy slicers. Her exclusive grilled take on the summer classic features Kobe beef, grilled avocado and a sriracha aioli. Pair it with a cold Stella Artois and spice up any gathering.
Shay Mitchell's Spicy Summer Sliders
Recipe by Chef Bart Vandaele & Shay Mitchell
Slider Ingredients
3 oz ground Kobe beef
1 baby seeded brioche bun
Avocado, cut into halves
Shay's Sriracha Aioli (recipe below)  
Crispy black puffed rice(recipe below)
Cilantro
Shay's Sriracha Aioli
1 cup of mayonnaise
2 tablespoons sriracha
1 lime
1 clove of garlic
Crispy Black Puffed Rice
½ cup wild black rice
Vegetable oil
Salt
Directions
First make the aioli. Chop the garlic into small pieces. Blend the sriracha into the mayonnaise. Zest the lime and add it to the mixture, along with a few squeezes of lime juice. Add the garlic and set aside to cool. To make the crispy rice, heat vegetable oil in a pan over high heat. Heat until it starts to smoke and then add rice. Fry for about 15-20 seconds until the rice starts opening up. Strain carefully into a sieve and season with salt.
Next roll the ground Kobe beef into small balls, each about 3-4oz., depending on how big you prefer your burger patty. Heat up the grill and flatten 1 Kobe beef ball until it is about ½ inch. Cook to desired temperature on either side. Simultaneously, grill the brioche bun face down and grilling the avocado in halves. Once the avocado is lightly grilled, slice into vertical pieces.
To build your burger: on the bottom bun, spread plenty of the Sriracha aioli then add the slices of grilled avocado. Next add the patty and top with sprigs of cilantro and crispy black puffed rice for crunch. Top off the burger with your top bun, and enjoy!
THIS ARTICLE IS WRITTEN BY