The Day of the Dead Comes Alive in Riviera Nayarit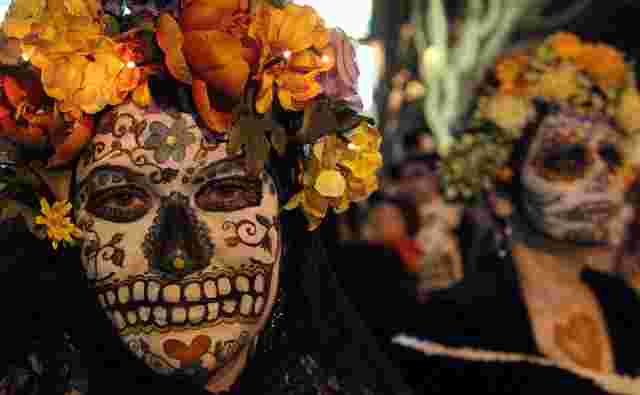 One of Mexico's most iconic holidays is just around the corner and Riviera Nayarit is ready to bring the Day of Dead, El Dia de los Muertos, to life. From November 1st – 2nd, the streets of Riviera Nayarit will be bustling with lively music, vibrant colors and aromatic foods as the festivities go into full swing.
El Dia de los Muertos, held to honor the lives and souls of those who have passed on to the next life, is filled with artistic and cultural activities including folk dancing, theater, street music and traditional foods. The official celebration begins at midnight on November 1st with a walk to the cemetery with a mariachi band to serenade the dead.
Hotels and resorts in Riviera Nayarit are joining in on the fun festivities, see below to check out what these properties are doing to celebrate:
Grand Velas Riviera Nayarit invites guests to celebrate the highly anticipated holiday with specialty food and drinks. At Grand Velas Riviera Nayarit, guests can an enjoy an altar display at Azul Restaurant accompanied by pan de muertos and hot chocolate.
The W Punta de Mita is getting crafty with a fun tattoo activation to celebrate both Halloween and el Dia los Muertos:   Get Inked at W Punta De Mita. Get ready to show off a new tattoo, inked by the famous artists of INK.INC. W Punta de Mita will be dressed up as a pop-up tattoo parlor from October 29th until November 2nd. Whether travelers are staying at the property or just stopping by, this is the perfect opportunity to get a memorable first tattoo or continue upgrading a current collection.
With Halloween just the day before, Iberostar is mixing things up with a combined Halloween and Día de los Muertos celebration. Guests will be able to enjoy a pan de muerto buffet, a horror house, a pumpkin decorating contest, and displays of la catrina in the lobby.
Vidanta Nuevo Vallarta will celebrate el Dia los Muertos with a procession that simulates the journey that all living will make sooner or later. The costumes, makeup, skeletons, paper banners and fireworks will come together for a playful celebration of life. Special celebrations and performances will take place from Wednesday, November 1 – Sunday, November 5 beginning at 6:15 p.m. at Vidanta Nuevo Vallarta's Santuario entertainment space which offers a beautiful indoor and outdoor space for live music, dance and more.
The St. Regis Punta Mita Resort
The St. Regis Punta Mita Resort welcomes guests to celebrate el Día de los Muertos with a ceremony known as the Warrior Dance. The Warrior Dance is a traditional dance used to connect with the spirits of ancestors. Displaying the beauty of Mexico's cultural legacy, the ceremony involves indigenous dances, which are a form of meditation in movement represented through spectacular handmade indigenous costumes and pre-Hispanic musical instruments.
The ceremony will take place on Thursday, November 2 at 5:30 p.m. at Arecas Beach at The St. Regis Punta Mita Resort. The price is $45 USD (limited availability). For booking, please call the Remede Spa Concierge at +329 291 58 47 by October 30th, 2017.
THIS ARTICLE IS WRITTEN BY