Truman's Gentlemen's Groomers Introduces New Line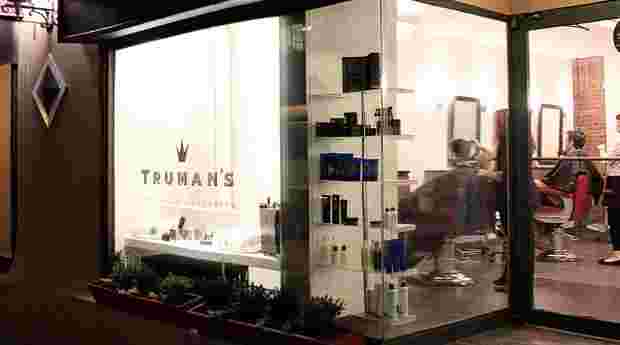 Truman's Gentlemen's Groomers is introducing a new line of grooming essentials focused on providing discerning consumers with useful grooming products. The new line encompasses nine hair and skin care products for today's gentlemen.
"The Truman's experience was born more than a decade ago when it was realized that there was a gap in the industry for men looking for refinement and functionality when it comes to grooming," said Truman's Gentlemen's Groomers, co-founder, John Esposito. "Our new line of grooming products feature proprietary ingredient blends, and are made in America with our stylist input. Now, we are proud to allow men to bring the ultimate luxury experience home with them."
From the start of a man's day to the end, Truman's aims to provide products that meet a demanding – yet refined – lifestyle. Truman's products feature premium ingredients in crisply designed presentation and packaging to supplement the brand's in-salon experience. The complete grooming lineup includes:
Truman's Facial Cleanser: Deep cleans to remove dirt and sweat from pores without drying skin. Sunflower oil helps nourish and restore the skin while peppermint and eucalyptus oils provide invigorating, long-lasting hydration.
Truman's Moisturizing Shampoo: Formulated to remove excess oils, residue, and buildup while sealing in moisture and nourishing hair. A proprietary blend of proteins and antioxidants strengthens follicles, enhances circulation to scalp, and delivers long-lasting volume for thicker hair.
Truman's Hair Paste: Designed to provide structural support and long-lasting hold with just the right amount of control. A measured pump delivery system dispenses the perfect amount of product every time. So there will never be overuse or underuse again.
Truman's Shave Cream: Uniquely formulated with a proprietary blend of essential oils, bio marine extracts and pro vitamins to help eliminate razor burn, clogged pores, breakouts and ingrown hairs. Effectively reduces irritation while it firms and tones, leaving skin soft, smooth and refreshed.
Truman's Lip Balm: Heals chapped and cracked lips while relieving dryness and irritation. Water resistant and long-lasting to maintain maximum comfort under all climate conditions.
Truman's Aftershave Balm: Made with shea butter and tapioca to soothe razor burn, redness and irritation. This unique combination of ingredients absorb into skin quickly for fast-acting relief. Finish every shave with this subtle masculine scent.
Truman's Facial Moisturizer: Developed with eucalyptus oil to cool and soothe as it penetrates skin. This advanced lightweight formula relieves scaling and flaking caused by dryness, while hydrating and replenishing moisture for smoother, healthier, better looking skin.
Truman's Facial Scrub: Energizing scrub that clears away dead skin and removes dirt for a clear complexion. A combination of natural peppermint, eucalyptus and menthol oils invigorate, restore and moisturize, leaving skin clean and hydrated.
Truman's Matte Texturizer: With a light, but defined hold, this is a great styling tool, especially for men with fine hair. Using beeswax to provide hold with reduced shine and natural vitamin E to moisturize; this product provides a stylish, light hold with a natural matte finish.
Truman's features two top-of-the-line New York City lounges offering refined men's grooming services and now a full set of premium products to complement grooming at home or on the go. Truman's tailored approach results in a novel grooming experience combining expertise and innovation from the most intensely trained staff in the men's grooming industry.
All products are available for purchase exclusively at www.Truman's-NYC.com and at both of Truman's Gentlemen's Groomers New York City locations (120 E. 56th Street and 121 Madison Avenue).
THIS ARTICLE IS WRITTEN BY