HOMBRE Exclusive: LUIS FONSI Celebrates Global #1 Success With SBS And "Despacito"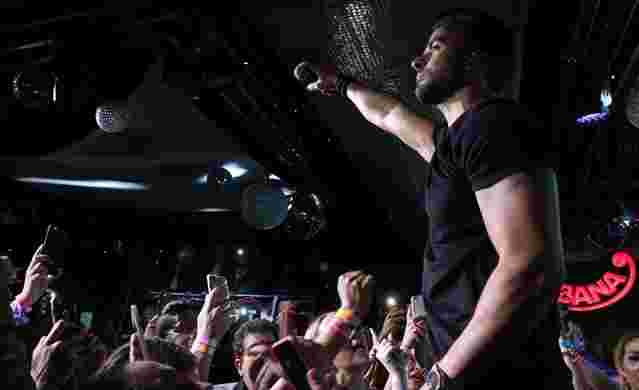 In celebration of their 2017 Upfront Presentation, Spanish Broadcasting System (SBS) presented a special concert with today's most popular Latin artist, currently with the Number One song on the U.S., and worldwide charts: Lusi Fonsi. "Despacito" closed an evening where Fonsi performed his biggest hits to industry insiders, and selected radio contest winners. We spoke with the talented artist prior to his performance at the Copacabana in New York City.
Bringing in Fonsi to perform was the perfect exclamation point for the many SBS accomplishments this year. The company's New York radio station MEGA 97.9 is currently ranked number one on the market, while sister station Amor 93.1 ranks number two.
Following his exclusive concert celebrating SBS, Luis Fonsi will continue his tour for complete world domination by performing in "The Voice" during day 2 of the season finale's primetime live broadcast on May 23rd (9-11pm ET/PT).
Right now Fonsi is making history and breaking barriers with the global phenomenon that includes Daddy Yankee, and features Justin Bieber on the Remix. This is the first song, mostly in Spanish, to reach the top of the charts in over twenty years. "Despacito," has been crowned as the biggest hit around the world currently holding the #1 position on Spotify's Global Chart, #1 on Shazam Global, and having reached the #1 spot on iTunes in 61 countries and counting. The song's music video claims over 1.5 Billion views on Vevo/Youtube and has become the most watched video of 2017 while the Remix feat Justin Bieber holds the record for Youtube's highest 24-hour debut of 2017.
Fonsi was born to perform. After graduating high school, he was offered a full scholarship to attend Florida State University School of Music. While he was finishing his degree in Vocal Performance, he began to record demo tapes in Miami. Soon after that he was offered a recording contract by Universal Music Latino.
In 1998, Fonsi recorded his debut album, Comenzaré (I Will Begin). The record peaked at number 11 on Billboard's Top Latin Albums chart. The album became an instant hit in Puerto Rico and across Latin America, with Fonsi conquering such markets as Colombia, the Dominican Republic, El Salvador, Mexico, and Venezuela. It was in November 2009 when he was awarded "Song of the Year" Latin Grammy for his composition "Aqui Estoy Yo".
His fifth CD, Abrazar la Vida opened new markets in Europe. "Quien te Dijo Eso?" reached #1 on the Billboard Latin charts. His sixth CD, Paso a Paso debuted at #1 and launched him into international markets. "Nada es Para Siempre" also reached #1 on the music charts, and was a nominee for the Latin Grammy Awards. His seventh CD, Palabras del Silencio debuted and stayed in the #1 position for many weeks. Fonsi cracked the Billboard Hot 100 for the first time in September 2008 with his song "No Me Doy Por Vencido," debuting at number 98 and peaking at number 92. It reached #1 on the Billboard Hot Latin Tracks, his biggest hit until now. "No Me Doy Por Vencido" became Billboard's "Latin Pop Song Of The Decade," and spent 21 weeks in the #1 spot of the "Hot Latin Songs Chart." The magazine also named him "Leader of Latin Music's New Generation" in 2011. A title he is currently proven true with the massive success of "Despacito."
HOMBRE: What brings you to the Copacabana tonight?
Luis Fonsi: SBS has given me so much and I wanted to be here to join the celebration.
H: How will the tremendous success of "Despacito" change your career?
LFi: I haven't changed anything, and there are a many musical plans. This is the first song I'm promoting for what will be my new record that will be coming soon. It's a song I'm doing with one of the most popular artists in Latin music by the name of Daddy Yankee. It's a song that perhaps is an evolution of the more romantic music I used to do – that I will continue to do – because I am a singer songwriter and I continue speaking to love. The new record will continue to have that essence as well as the rhythmic part which I've always carried within me, but perhaps I hadn't found the right song to set it off. "Despacito" was that song that gave me the opportunity to move a little more, to enjoy that Latin essence, to include a Puerto Rican 'cuatro' in a song. I'm very grateful with all the love the fans have shown, especially the Latin fans. Because thanks to the Latin fans the song became a hit in Europe, in Asia. It arrived to ears of Justin Bieber and now it's number one on the Billboard 'Hot 100' charts, which is an incredible accomplishment for Latin music so I'm very grateful.
H: You wrote the song almost two years ago, why did you decide to release it now?
LF: It's a process. Songs are written and they don't always come out. "Despacito" I wrote, and in the middle of the process I stopped to try and find the right production. It's a normal process. Songs don't happen overnight, but I always knew it was a very special song. When Daddy Yankee joins the song it begins to grow. It came out when it was supposed to, when God meant for it to happen.
H: Are there going to be more uptemo songs?
LF: Yes, there will be, but we can't talk about it now.
H: How do you feel when you see a child that perhaps is sick and suddenly becomes happy with your song?
LF: I think you speak of the young Chilean child that was listening to the song. I called her, invited her to the concert and now I will see her, God willing, if they let her go to the concert in October when I'm in Santiago, Chile. That moved my heart with joy and sadness at the same time. That puts everything in perspective; how important music is for the soul, for the heart, and to see how children can battle adversity, and how music brings happiness. It was a blessing.
H: Do you have a message for Venezuela now that the country is going through such turmoil?
LF: I love Venezuela, Venezuela has given me so much. It gave me the opportunity to do so many projects, not only musically, but also acting wise, especially at the beginning of my career. It's a nation I have here next to my heart. I always wish the people the best and I'm always aware of what's going on. The entire world right now it's a little Venezuelan. The world wants the violence to end, and that the country moves forward. My wish is for peace for such a beautiful country, filled with so much richness, as Venezuela.
H: Why do you think the song became such a hot in the Anglo market?
LF: Really, what can I say. The song already had a lot of momentum in Spanish. Obviously when such an important artist as Justin Bieber joins in it gives the opportunity to an audience that perhaps did not know me or didn't know Daddy Yankee. That opened up a new door for us.
THIS ARTICLE IS WRITTEN BY