HOMBRE Exclusive: In the Octagon with LUKE ROCKHOLD and LYOTO MACHIDA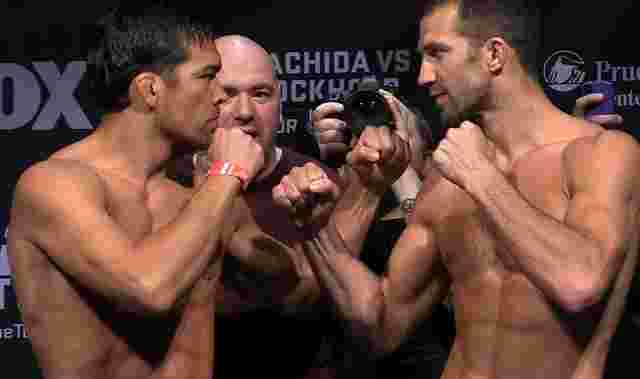 The exciting Fight Night New Jersey headlined by the middleweight bout between Lyoto Machida against Luke Rockhold took place this past Saturday. The event aired live on FOX from Prudential Center in Newark, New Jersey and featured four bouts, including the Ronaldo "Jacare" Souza triumph over Chris Camozzi, and Paige Van Zant's dominating victory over Felice Herrig.
The Main Event saw Luke Rockhold, former STRIKEFORCE Middleweight Champion and number four middleweight contender defeat Lyoto Machida, former UFC Light Heavyweight Champion and number two middleweight contender. Both opponents came in at 185 pounds with Machida holding a record of 22-5-0 and Rockhold at 13-2-0. In an exclusive interview – prior to the match – both contenders revealed their expectations for this upcoming thriller.
LUKE ROCKHOLD
Luke Skyler Rockhold is a former Strikeforce Middleweight Champion. As of April 13, 2015, he is ranked #4 in the official UFC middleweight rankings and the #6 middleweight in the world by Sherdog.
HOMBRE: What are your feelings about this fight?
Luke Rockhold: I feel great. It's an honor to fight Lyoto. He's a great fighter, he has been at the top for a long time and I'm just excited to go in there and dance with him. I like challenging  myself and I understand the level of opponent I have and I've trained very hard. I love fighting so getting out there is th best part for me. This whole training camp has been hard, has been brutal but I got through it and I'm ready to go.
H: Tell us more about your training.
LR: Training has been great. I've been training with the best team in the world. We're all the top guys in our respective weight classes so gym's on high. We've all been pushing each other. I've had my ups and my downs at camp. Camps are never perfect, they're always hard. You have your injuries, things you have to work through that make you stronger and I'm happy to say I've gotten through it and my body feels good. I'm ready
H: As a child, is this something you wanted to do?
LR: I'd say it was a far fetched dream. I remember when I saw it on TV and though, "I want to do that!" Later on it became so apparent that I was getting so good at wrestling and jujitsu and I started winning tournaments on a national level that I thought, hey this could be my profession. I always believed I could be a professional athlete. Dreamed of it as a kid, forgot about it, pursued other ventures athletically thinking about being an athlete. It came after not having a clear path and sort of spreading myself too thin in the world of athletics and what I was going through and found that this fighting thing was taking off and maybe I could turn it into a real profession and make money. I eventually made that jump and I wouldn't change it for the world. This is the perfect thing for me I couldn't imagine anything better.
Lyoto Carvalho Machida is a Japanese Brazilian mixed martial artist who currently fights in the middleweight division of the UFC. He is a former UFC Light Heavyweight Champion and as of December 15, 2014 is ranked #3 in the official UFC middleweight rankings, and #5 in the world by Sherdog. Many fighters and MMA analysts rank Machida as one of the greatest fighters of all time. He has beaten many former MMA champions including Tito Ortiz, Gegard Mousasi and Randy Couture.

HOMBRE: How do you feel about this match?
Lyoto Machida: I'm feeling good. Very prepared for this fight. I'm calm, I'm ready.
H: How did you prepare?
LM: I usually have eight weeks in my camp and I try to choose some sparring partner who looks like my opponent, to simulate his style and that's it.
H: Was being a UFC fighter something you always wanted to?
LM: Yes, since I was 15 years old. I saw UFC for the first time and at that time I put in my mind that I would become a champion on this sport and 15 years later the dream came through and I became one.
H: What advice do you have for kids aspiring to join the sport?
LM: You have to believe in yourself, you have to love what you do. That's it believe and go ahead.
H: What advice would you give to kids that want to enter the profession?
LR: I would advice them to go at it whole hardheartedly if they want to be a professional athlete. To jump into the biggest and best camp you can find. It's an iron sharpens iron kind of world and you have to live without regret so you dedicate each last bit of yourself mentally and physically to each fight. This is fighting this not like any other sporting event. This is not a ball sport where you come back and win. Every time you fight there is so much on the line  and so you have go out there and give your all.
THIS ARTICLE IS WRITTEN BY