Kimpton Mason & Rook Hotel's Stripes, Stars and Sun Package Celebrates July 4th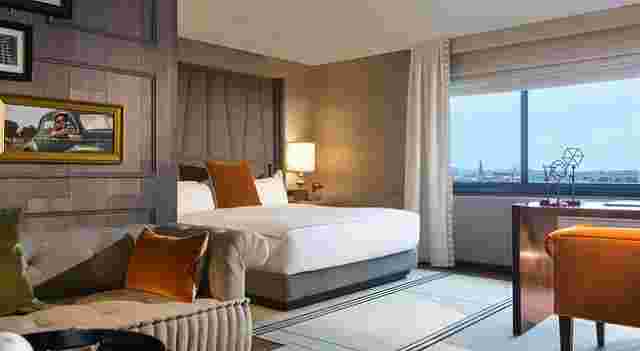 Kimpton Mason & Rook Hotel's Stripes, Stars and Sun package is the ideal way to celebrate Fourth of July in our nation's capital. While sipping cocktails poolside, you can take in some of the best views of Washington D.C. and then cool down with a post-sunbathing package.
The Rooftop will also host an American themed pop-up bar this July, where Radiator's Lead Bartender Sarah Rosner will serve red, white & blue sangria (white wine with cherries and blueberries) and frozen whiskey Cokes.  Executive Chef Jonathan Dearden will celebrate America's favorite pastime with a hot dog menu. From grilled Kosher hot dogs to veggie dogs to corn dogs with Chef Jonathan's special masa batter, guests will enjoy all the fixings while taking in a full sweeping of the nation's capital.
The Stripes, Stars and Sun package includes
* Deluxe accommodations + complimentary upgrade
* Two post-sunbathing Soothing Body Wrap in-room spa treatments using aloe vera and algae to calm and moisturize skin after sunbathing
* $100 F&B credit to be used at The Rooftop or at on-sight restaurant, Radiator
Opened April 2016, Kimpton Mason & Rook Hotel provides spacious, residential-like accommodations thanks to its former life as an apartment building and boasts an ideal location just steps from the lively 14th Street action. Bustling bars, boutiques, galleries and restaurants now pervade the surrounding neighborhood, making Kimpton Mason & Rook Hotel the perfect starting point to celebrate your Fourth of July weekend.
 For more information visit www.kimptonhotel.com 
THIS ARTICLE IS WRITTEN BY